This article was originally published in Spanish by María Eugenia Coppola on March 8 2017.
Tech spending in travel – and in particular, around experiences – is definitely having a moment.
Lately we've seen the rise of Airbnb Experiences, Google Trips, Google Local Guides, and now Facebook City Guides. While City Guides is still being tested in the United States, it's estimated that it will reach the rest of the world during the first half of 2017.
As a professional in the tourism sector, it's worth you knowing what Facebook City Guides is, what it offers to consumers, and what impact it might have on tours and activities.
Let's start at the beginning: what is City Guides?
City Guides is a new Facebook app feature that will offer users advice when travelling, through recommendations of places, events, and activities in the city – alongside opinions and reviews of their Facebook friends. To access it, you will just navigate to the City Guides section of the Facebook mobile app.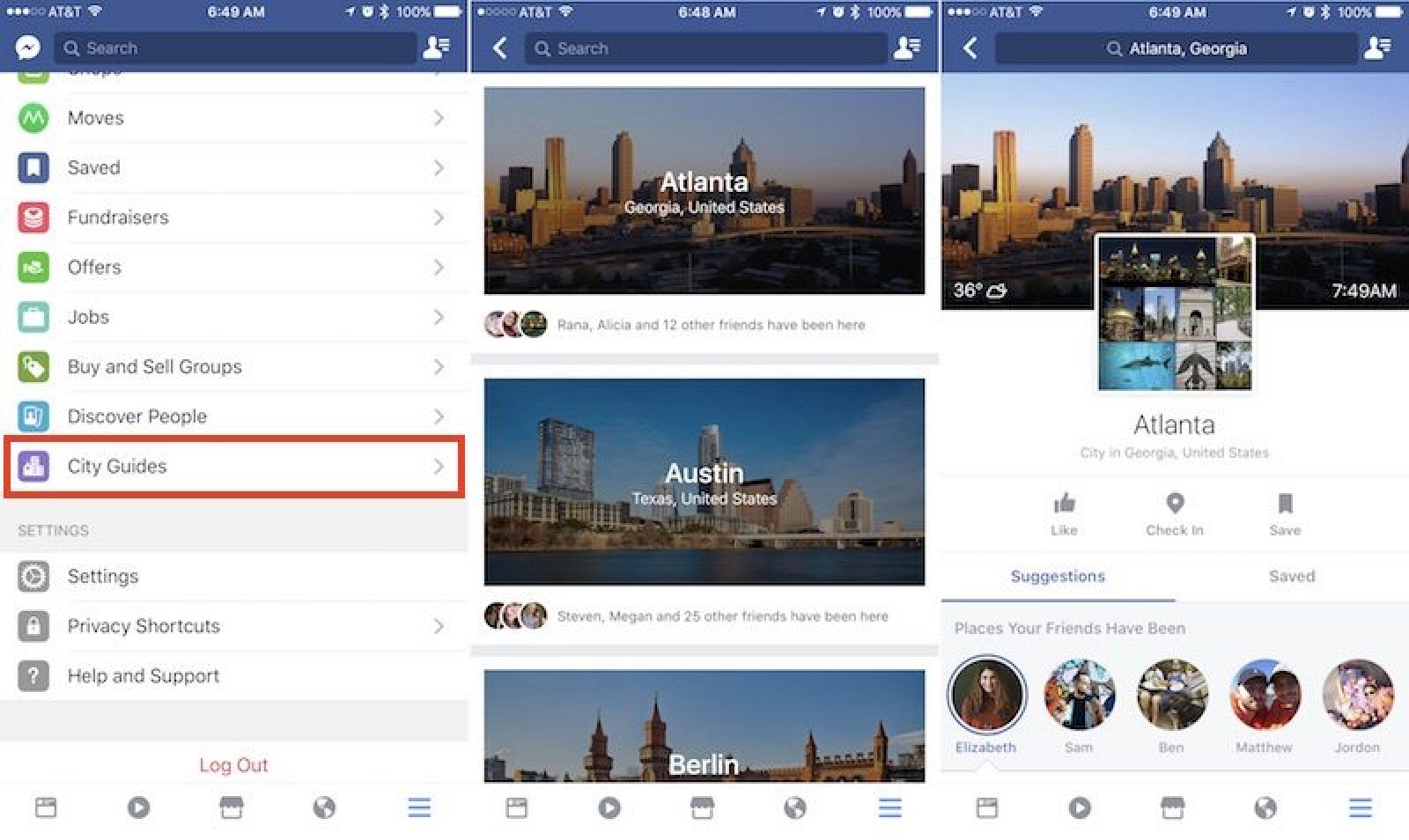 How does City Guides work?
When you open City Guides, the tool shows you a list of cities around the world, indicating which ones your friends have visited. When you're in a destination, City Guides gives you recommendations of things to do, the most popular attractions in the region, and the places frequented by locals. You can also click to see which activities your friends have previously done in the destination, as well as their ratings. The more friends you have on Facebook, the more complete and useful the information and recommendations will be.
As well as helping with practicalities like updates on local time and weather, the tool allows users to plan their trip in a more personalised way by saving attractions and events of interest and creating an itinerary. And even more importantly: it will be possible to book those experiences that include a "book now" button on Facebook.
According to Skift:
City Guides is Facebook's way of getting into travel planning and, importantly, booking — or booking referrals. It is more social than Google Trips, and similar in some ways to how TripAdvisor integrated your Facebook friends' visits into its own destinations and hotel pages.
One thing is clear: the fact that an app like Facebook – with 934 million users around the world on it every day - has decided to venture into the tourism sector means that it will have enviable opportunities, especially from its huge database of users.
According to a Facebook spokesperson who reached out to The Next Web: "this new feature can help people get a better sense of their city, or a city they're visiting through their friends' eyes."
The search for authentic experiences
Another interesting aspect of City Guides is the "Places The Locals Go" section, displaying the most visited spots by locals. Why include this in a travel planning tool? Because today's traveller doesn't want to see a destination through the eyes of a tourist; they want to really feel like they're a part of the place they're visiting. They want to immerse themselves in the true essence of a region. This is the same consumer desire that motivated Airbnb to offer experiences on their platform.
What's the difference between Facebook City Guides and Google Trips?
We asked ourselves the same. And we'll surely be able to investigate it more when we can actually test the new feature ourselves here in Europe. In the meantime, we can say that Google Trips will have the advantage of integrating with other Google apps with wide reach, such as Gmail.
However, Facebook has a head start in another aspect: the 934 million users who use the site every day, 894 million of which do so from mobile devices. When building a user base for City Guides, Facebook won't need to motivate anyone to download a new app. They already have one, and it's definitely being used.
What does the arrival of Facebook City Guides mean for tour and activity companies?
Firstly, it's another confirmation of the inevitable: travel planning keeps moving further online. As a tour and activity professional, this has to be reflected in your strategy and business plan if you want to stay relevant for consumers.
The role of mobile devices keeps increasing. It's no accident that City Guides is part of the Facebook mobile app. If your website still doesn't adapt to mobile devices with responsive design, you're most likely losing clients.
If you do not have a Facebook company page or if your page is outdated, we suggest you get down to business. City Guides will only recommend what's on Facebook, so make sure you are there and showing the best side of your company.
Word-of-mouth marketing isn't going anywhere. As with TripAdvisor, getting good reviews from your customers is the key to attracting more visitors. How can you do this? Delight your customers by taking care of the details, paying proper attention to negative comments and suggestions, and responding to comments as soon as you can – with respect and professionalism. After each experience, it's also important that you tell your customers how much you value their opinions and comments.
Don't forget the locals. The "Places the locals go" section of City Guides is a result of the growing interest of travellers in experiencing destinations as locals. If you offer a tour, try to keep these places in mind. In fact, you might even consider a partnership with these establishments.
Are you interested to see what City Guides means for your business? Stay tuned for more of our insights into the feature – we'll continue to share more details when it's fully launched and arrives in Europe.
Want to take your social media efforts to the next level and improve your engagement on Facebook? Make it all work with our new Weekly Social Media Planner, a free and simple printout for your business.