The high season is finally here and as you begin to run your tours and activities, make sure to find time to run last-minute checks on a crucial part of your business - your online booking system.
The last thing you want over the high season is to lose out on all those last-minute bookings that take place online or on mobile sites.
Make time to run a full booking test and look out for these four things that could make or break your booking system.
1. Your tour and activities listings
Browse through your tours and activities listing pages and make note of the following:
Pricing - Are your prices listed correctly? If you charge differently for say children and adults, is that clear on your listing?
Schedules - Are you activities' schedules correct? Are your availabilities displayed correctly? Does it reflect your real-time inventory?
Tour and activity descriptions - Are your trip descriptions accurate? Do they correctly convey to readers what to expect when they go on a trip with you? Is what you say compelling enough to get them to book a trip with you?
Does the "Book Now" button work? This is the most important part of your entire website. Make sure the buttons/ Call-To-Actions on your homepage and on your activities pages work. They should lead customers to your booking process.
Read more: 5 quick hacks to spruce up your website right now
2. Your checkout process
In your booking page, select multiple trips to test out your system. Then, carry on to checkout.
Calculation - Are multiple items calculated correctly? Are the different price categories taken into account?
Down payments and taxes - If you've enabled a down payment for your trips, is that calculated and displayed correctly in the checkout process? What about taxes? If enabled, are those also properly displayed here?
Guest custom fields - In your checkout process, make sure that you collect the right information from your guests. Are you custom fields easy to understand and relevant to the booking? Don't ask too much of your customers and unnecessarily complicate the checkout process.
Add-ons - The checkout process is your chance to upsell customers with add-ons. Are your add-ons displayed correctly?
Terms and conditions - At the end of your checkout process, are your terms and condition displayed correctly and clear to customers? Did you make sure to draw attention to the important parts of the document?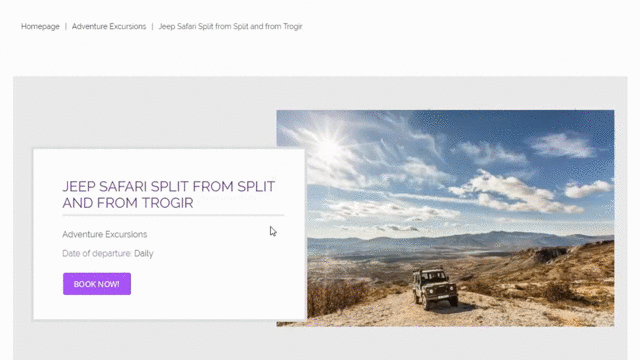 3. Your post-checkout communication
After completing the booking, head over to your inbox to have a look
Automated confirmation emails - Are your confirmation emails displaying the correct booking details? Is it addressing the right person? Did the email contain the tickets for the trip? In this email, you could also include extra information like pick-up times, meeting points and perhaps a link to an FAQ.
Trip tickets - Are the trip tickets showing the correct information?
Read more: 7 email templates for every tour and activity operator to use
Download your free checklist to get the most out of your booking system and get ready for summer!
4. Your back end
Make sure to run a back end check of your system too. After making a booking, head to your dashboard to check out these things.
Check your dashboard - Did the new booking show up in your Dashboard? Does it have all the correct booking details?
Resources - Are the relevant resources blocked out? Our Resource Manager automatically operators blocks out relevant resources depending on the trip, which prevents overbooking or "over renting" equipment (a mistake that can be made especially over the high season when everyone's busy).
Amend a booking - While you're at it, try re-booking and updating your booking details (experiment with changing dates, adding more activities, and/or adding more passengers). Is your dashboard displaying the most recent changes?
Cancellations - Cancel the booking. Does it work?
Last but not least, remember to try this out on all your booking desks including you website, Point of sales desk and your mobile site. Get your team to help you out here, divide and conquer.
For TrekkSoft customers, check out this page for a video tutorial on how to run a booking test and a list of checks to run on your TrekkSoft account. Not a TrekkSoft customer but want to find out more? Schedule a call with us.
Want to get more out of your booking engine this summer?
Download this free checklist.