We interviewed three tour and activity companies who performed really well despite the uncertainty throughout 2020. We wanted to understand how they developed their sales and marketing strategies and how they made it work.
Here's a roundup of their best tips. I hope it inspires you to push the boundaries of your company's sales and marketing for the next season.
The Campbell Group, UK
The Campbell Group offers heritage tours of Shepton Mallet Prison and Shrewsbury Prison. Founded in 2015, today, the popular heritage sites offer a range of tours, activities, events and is also available for private hire.
Top three marketing tips
1. Forward planning is key to preparedness
During the first lockdown in the UK, the team used the time to plan for reopening. Taking their cues from other countries in Europe who gradually eased restriction, they looked for similar signs indicating when the UK would reopen.
As for their marketing campaigns, they had planned everything including paid advertising and social media posting. As the government released more information, they adjusted their campaigns, which was relatively easy to do since everything was already set up.
When lockdown was lifted, it was simply a matter of setting everything live.
2. A change in messaging to reduce refunds
One thing the company learned early on in the pandemic was that the high refund rates severely impacted their cashflow and put the business in a precarious position.
To counter this in the following lockdowns, they updated their customer notification emails by highlighting the option to reschedule tours and did not mention an option for refunds. However, if customers requested a refund, they were happy to process those as well.
3. Offering value even during lockdown
During lockdown, the teams at both Shepton Mallet and Shewsbury prisons continued to offer thrilling experiences online. Their live online tours ranged from ghost hunts at night to more educational topics like young offenders and the programmes that were setup to rehabilitate and re-educate them.
All their online tours were streamed via Facebook Live and offered their audience a glimpse into the experiences offered at the prisons. When travel was allowed again, the company saw an influx of visitors thanks to their efforts on social media.
I highly recommend you check out the Facebook pages for both Shepton Mallet Prison and Shewsbury Prison if you need some inspiration for your next social media campaign.
You can read the full case study on The Campbell Group here >>
Ways Tours, Italy
This operator launched not one, but two new products during the pandemic. They also launched Ways Tours, a parent brand for Veronality along with a website update to support the new brand. They offer unique, private, online and offline tours in Verona, Venice, Milan, Turin, Lake Garda and the Prosecco Hills.
Top three marketing tips
4. Tweaking prices to profitability
Early on in 2020, Ways Tours launched a range of virtual tours to improve cashflow and offer an alternative experience for customers who had to cancel their trips due to travel restrictions.
A year later, their virtual tours are more profitable now compared to when they first launched. What changed? Their pricing strategy. When they first launched their virtual tours, virtual tours were a relatively new concept and the team mostly used virtual tours to generate brand awareness and engage customers.
However, to be truly profitable, they had to change their approach to virtual tours. With a better understanding of virtual tours amongst consumers, they took the opportunity to adapt their strategy to offer more intimate and premium experiences.
5. Exploring new sales channels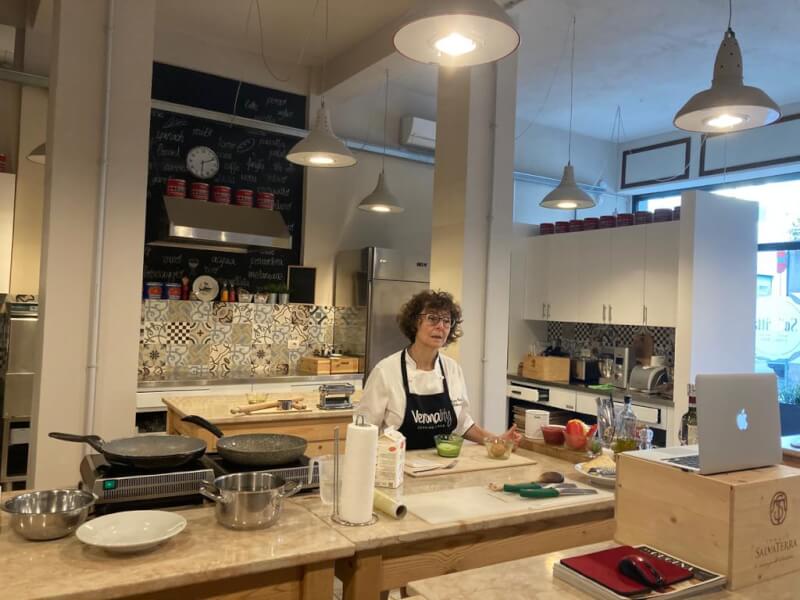 To promote and sell their virtual experiences, in this case virtual cooking classes, the team experimented with different channels including popular OTAs like Airbnb Experiences, Viator and GetYourGuide. They found working with Airbnb Experiences difficult and other OTAs did not seem to reach the right audience.
When they realised that the customers' journey for online tours are different from regular tours, the team decided to experiment with alternative channels. They reached out to blogs and magazines to promote their virtual experiences and even began working with niche OTAs like airKitchen to reach the right customer segment.
Learn how affiliate marketing can be an efficient way to market your tours and activities on blogs and digital magazines >>
6. Leveraging on local networks
Apart from virtual tours, Ways Tours also launched Wine Ticket, where customers can purchase a ticket for €25 which can be used to visit one of 30 wineries in the region. It was created for more independent travellers in mind, perfect for domestic travellers from Italy and neighbouring European countries.
Ways Tours worked with wineries all over the region to create this unique offer, and collaborated with local hotels to promote and sell tickets to customers. Hotels were happy to promote this as it gave travellers something unique and fun to do in the region.
Read the full case study on Ways Tours here >>
Canoe Trail, UK
Based in Bedford, UK, Canoe Trail is a watersports and adventure company run by husband and wife team Richard Harpham and Ashley Kenlock. They offer canoe, kayak and SUP rentals, multi-day canoe expeditions, group activities and youth activities.
Top three marketing tips
7. Optimising your website and booking system
During their downtime, the team at Canoe Trail took the opportunity to focus on projects that were on hold for a long time. For example, they worked on their website, a key sales and marketing tool for the company. They focused on their SEO strategy, adding relevant calls-to-action throughout the site, mobile optimisation, updating content for search intent.
SEO tips that led to an increase in organic traffic:
Did keyword research for their website
Analysed traffic sources to landing pages that were ranking on Google search
Restructured the site to reflect important keywords
Used Core Web Vitals to identify slow-loading pages to improve page speed
Added Google Analytics to their website to track booking flow (Click here to find out how!)
8. Giving inbound marketing a shot
Canoe Trail also experimented with "Adventure Talks", a series of webinars featuring inspirational speakers from all walks of life. Their past speakers include an Olympic medalist, an eco-journalist, and an adventurer.
This gave them the opportunity to collaborate with other partners and served as a good tool to build their mailing list and capture new leads for future expeditions.
Adventure Talks are available for replay, catch them here >>
9. Selling seasonal vouchers
Over the year-end holidays, Canoe Trail ran a Christmas campaign and sold Gift Cards for customers to give to their loved ones. They saw a 2X increase in sales compared to previous years and are planning to do more seasonal sales.
Read the full case study on Canoe Trails here >>
Want to learn how TrekkSoft's booking system can support your marketing and sales?